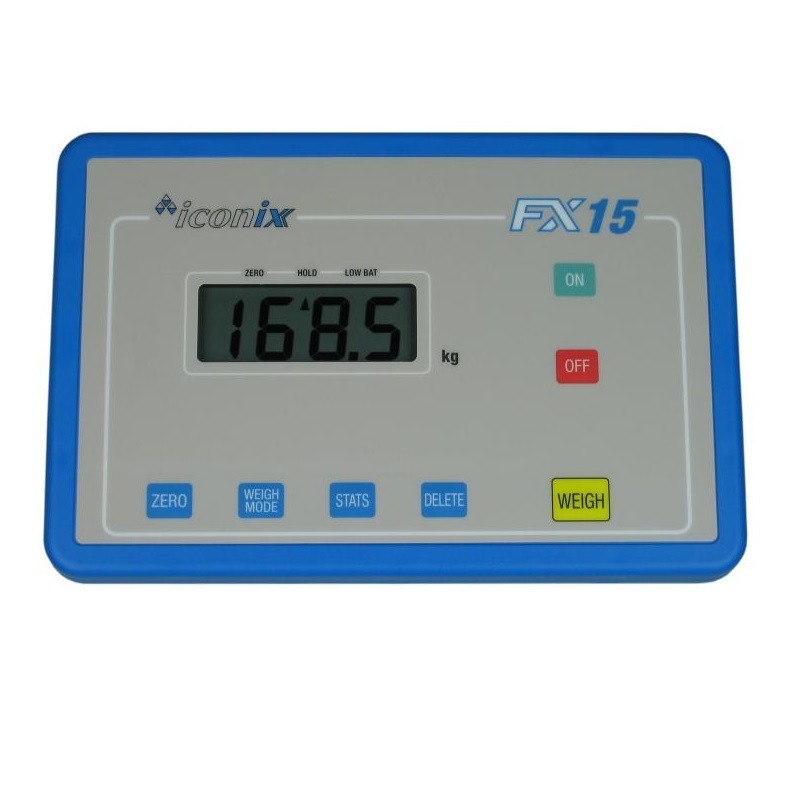 FX15
The Iconix FX15 livestock weighing system provides those little extras while retaining ease of use.
Enquire Now
Download PDF
The WEIGH MODE key allows the user to choose between HOLD for weighing livestock and FREE for static loads such as produce.
One-step WEIGH key. As soon as you're ready, press the WEIGH key. That's it! The accurately averaged weight is added to statistics and locked on the display until the next weighing.
The large high contrast custom LCD features 27mm digits for excellent visibility under all weighing conditions. The tactile (click-type) keys add further to the ease of use.
An optional internal rechargeable battery may be fitted to give approximately 10 to 12 hours of portable weighing.
Automatically adapts the resolution and zero-tracking to suit the weight range in use. The FX15 makes switching weigh jobs a breeze. No need to manually select different modes.
Statistics are easily viewed at any time during the weighing session by scrolling with the STATS key. The following statistics are displayed:
Number of animals

Average weight

Total weight

Maximum weight

Minimum weight
Choose your system by mix and match. The FX15 indicator is compatible with all Iconix loadbars.
Available in English, Spanish and German language versions.
Specifications
Supply voltage = 11.5V to 19V DC

Low battery indication = 11.4V DC

Accuracy = +/- 0.5% of displayed weight +/- 1 division

Temperature range = -5°C to +50°C

Dimensions = 280 x 186 x 90mm (excluding bracket)

Weight = 1.7kg (including bracket)
Auto ranging resolution. With standard 2000kg loadbar set:
0 - 20kg 0.1kg steps
20 - 50kg 0.2kg steps
50 - 200kg 0.5kg steps
200 - 500kg 1kg steps
500 - 2000kg 2kg steps